Wim van Velzen photography - articles
---
keeping the books
reviewing the results of a three weeks landscape shoot - 2005
Summer 2003 was the first time I wrote some landscape photography targets down before packing for our holidays. These targets and what came out of it is written in this article: Keeping the books, reviewing the results of a two weeks landscape shoot. This process was certainly helping, so in Winter 2003 I did the same: 'Every morning is different', a trip to Scotland in Winter.
Putting targets, making photographs and than a thorough review - it all is an enormous help for me. It stimulates to keep improving my work and to enter new grounds.
Summer 2004 we moved from Katwijk to Veenendaal, so we didn't leave the Netherlands all year. Now in 2005 we were happy enough to pay Scotland a visit once more. I am still working on the story of our trip , which will be published witin a few weeks.
targets
Before putting my 2005 targets, I first looked at the Summer 2003 conclusions:
With the Rollei I can do reportage style work without a tripod
I made more panoramas, giving some nice results - I should do this more often
Light and colour make or break a landscape - this should be taken into account time and again; this does not imply that the light should always be 'glamourous'!
Use all landscape elements, also the modern or visual less attractive - otherwise my photography is just some sort of romanticism
Give attention to wildlife and flowers, as well as to landscape
Use the polariser and grey grad filters more often
Summer 2005 targets
Staying focussed on documenting the landscape - its history, nature, inhabitants, weather, light
Aiming more at documenting daily life too - a bit more travel photography
Doing some experiments with shallow depth-of-field, like I do at weddings
Delivering at least 10 good panoramas
Use more modern elements, like fences, roads, electricity lines etc.
Our plans
The number of our party is four: for the first time Teun (6 months of age) will go with us, together with our 7 years old Klaas, Marleen and me. Because the youngest will need quite some rest, the main time for photography will be between 6 and 10 a.m. and in the evening.
The Renault 19 is no longer our loyal servant; we are now travelling with our Renault Kangoo: more space, quite nice with the extra passanger! As in the past, we will camp with a tent in simple campsites, for maximal flexability.
We have three weeks to travel, with as main aim a number of Northwestern islands: the twin island Lewis & Harris and Skye, Britain's largest islands, with 20,000 and 8000 inhabitants respectively. Given their area, the same islands would have more than a million people in the Netherlands!
The islands we are heading to are mostly treeless. So I will aim at the coast and climb somewhat more often. There are more prehistoric monuments than pictoresque towns or sweet castles.
Being there, I am quite sure I will buy countless books with local information, books on nature, culture and history. And as most people on these islands speak Gaelic in every day life, I hope to buy especially in that field.
means
In 2003 the big news from me was that I changed from a Bronica EC system to the Rollei 6008. This year I feel almost forced to explain why I still (sic!) don't work digitally. Briefly this is why:

mediumformat slides offer an enormous high quality, that can be done digitally against enormous costs only
the way we travel make using a laptop and often charging batteries a difficult workflow
projecting slides is for me the best way to tell the story of our travelling
I don't need the things where digital shines: speed and flexibility in ISO
That said, I have to admit that in some situations a look on a histogram might come in handy. On the other hand - bracketing is easily done.
Since 2003 my Rollei system expanded. November 2003 a 250mm and 2x were added (both non-PQ). Fall 2004 I added a 90mm macro Schneider, and rarely used my 80mm or the extension tubes ever after. December I also added a Zeiss non-PQ 40mm. As with the 250mm, it has a slower workflow than the PQ-lenses, but that is not really a problem.
Two batteries for the 6008, charger and a UK-to-Europe adaptor, car charger
Manfrotto 055 tripod and 410 head; Manfrotto 190 tripod and 56 head as a lighter alternative and back-up
105 provia 100F films (12 frames in 6x6 size), 10 provia 400F (for you never know) and 55 Velvia 100F for those overcast days
The Rolleicord will stay in the back-up bag: it can only be used with a light meter or a SLR, which denies its positive point of travelling light
In 2003 I used the Pentax MZ5 as a light meter next to the Rollei (which proved totally unnecessary, as the Rollei meter does a terrific job); my wife will put some print film through it
A couple of 1:50,000 Ordnance Survey maps; especially the height contours help to find good viewpoints - and not to get lost!
Knowledge of the place we go to! A heap of books on Scotland, especially the Hebrides helps to see more than merely looking at the scenery. Information on ecology, use of land, history etc. helps to interpretate the scene.
---
between fear and hope
As I write these lines, we just arrived back home. The films are sent for development and eagerly expected, even as I can quite well estimate the outcome. Working digitally has a point here.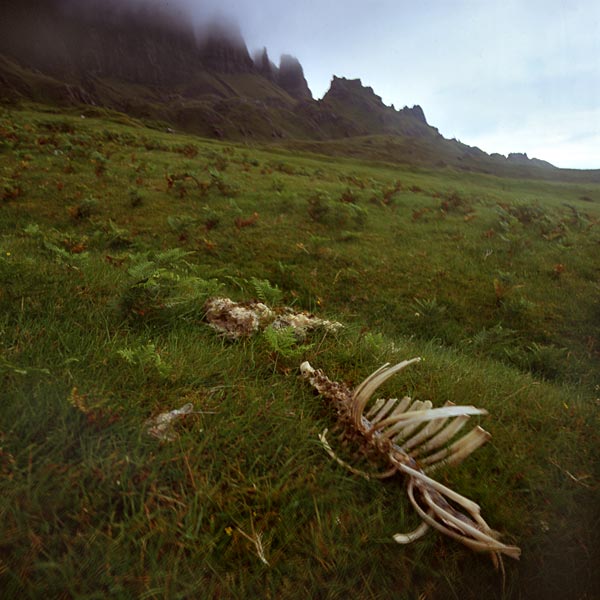 Without talking about the details of the trip itself, I can say that the photography was highly influenced by three things. First the mediocre weather, with very disappointing mornings and evenings. Most of the time than the light is at its best, but now most days were gray and overcast. We rarely experienced spectacular light conditions, apart from some very bright sunny spells around noon. Rather frustrating to be in a very beautiful landscape, but without the light to go with it.
The second point was that one of my spectacles' glasses fell out of the frame. The only other glasses I could use were sunglasses of about my own strength, but with different cilinders. This didn't really encourage me to go on and make photographs. But anyway, lesson learnt. I have got two identical pair of glasses now.
I managed to show even more clumsiness by have my 40mm fell out of the bag onto the road surface from about 1 meter. Most of the blow was taken by the back lens cap, but after two days a few parts of the diafragm iris were moving inside the optical path. I suppose all the lenselements are not exactly where they should be as well. Rather annoying ... and very stupid!
But even under these circumstances the islands scenery was often overwhelming. Wide and rugged, turbulent weather and ditto history.
More than in other years we had some nice talks with the local people. A baby, bad weather and not too many tourists contributed here, as well as bit of Gaelic (chan eil moran, ach tha mi a' ionnsachadh...). These contacts were probably the most surprising and agreeable part of our trip.
These contacts did'nt bring much photography, but that is because I feel a bit embarrased to ask or even just forget to ask. Nevertheless, I managed to do some photographs anyway. For me a first, but certainly not the last time to do this!
---
results
some numbers

In 20 days I used 56 provia 100F films and 30 velvia 100F; the 400F saw no use at all
The ratio of bracketed, rejected and kept shots was remarkably simular between the provia and velvia shots, despite the difference in weather and light (although I took relatively more photos in good weather than in bad)
The reasons to reject shots were about the same as well, although I rejected somewhat more velvia shots because the light wasn't good
Of 1032 frames, 367 were used for exposure or filtering bracketing
I lost 9 frames by pushing the release button within intension
Ergo: I got 656 (63.6%) really unique shots
After a first assessment I kept 454 shots; in other words 69,2% of the number of individual shots were OK in content and technique (that is not the same as great...)
I tried to categorize the 30.8% of rejected shots (of course these categories cannot be sharply distinguished):

7.5% because the subject wasn't actually all that great, or I didn't make the best out of it
11% because another image was even better at showing what I was after
5.5% because the light just wasn't right
4.9% because the exposure wasn't right or the contrast was too high (should have used a grey grad)
0.8% had sharpness issues, mostly depth of field or using a tripod on unsteady ground
1,2% because the 40mm's aperture mechanism got crashed

Two days later I made a second assessment and I rejected another 111 (16.9% of the original 656 individual shots). Most of time I rejected these, because other photographs of the same subject were better, or the image was too much of nothing after all.
So in the end I got 343 shots (52.3%)
For the sake of comparison: in 2003 I got 230 shots, 57% of the total number of shots. Then we had a holiday of 13 days (not counting the days of travelling to and from), this year we had 20 days. As you can see, I grew a tiny little bit more stern to myself; the number of shots per day stayed remarkably close.
I suppose I will put about 120 to 150 of the 343 keepers in the portfolios on this site [ in the end this number turns out to be 170 ]
I also counted the number of times I used a certain lens (in hindsight on the light table - I am quite sure I have got more than 90% right). These are the percentages of the 343 final images.
| | |
| --- | --- |
| Lenses | used |
| 40mm | 7,6% |
| 50mm | 49,6% |
| 90mm | 12,8% |
| 150mm | 23,6% |
| 250mm | 6,4% |
| conv | 0,6% |
| ext. tubes | 0,6% |
Of course the 40mm would have seen more use, would it not have been crashed.
some remarks about gear and film
Recently purchased and used with very much satisfaction: the Lowe Pro Photo Trekker AWII. A very sturdy backpack enough space for all my gear and then some. Very good ergonomics and personal settings - a very comfortable way of carrying my gear. One point though: they should make it sheepsh*tproof...
More than in other years I used my camera without a tripod, like on the ferries and when shooting people. Shutterspeed was at least 1/75 for the 50mm and 1/250 for the 150mm. This works fine, without causing much loss of sharpness. It does though limit depth-of-field and composition tends to be a bit more sloppy.
I used the 40mm more often than I had expected. More and more in recent years I tend to do more wide angle and less telephoto - although I still use the compressed perspective of the latter more often than most landscape photographers. It is to be recommended though not to let it fall out of your bag onto the road surface... If the lens proofs to be beyond repair, I am sure I will buy another.
The 90mm macro is a very fine lens, even if for real macro I had rather have a longer focal length. It works as an excellent allround standard lens. Sharpness is unsurpassed.
This year I used grey grads more often, to the benefit of my photographs. A shame the Cokin p-series is too small for the 40mm and 90mm lenses. On the other hand, the Cokin filters cannot compare in quality to my lenses, so I will have to invest in better (and larger) ones anyway.
This year used for the first time, and to my full satisfaction: charging the batteries in the car (Rollei cameras come standard with a special car socket). Plug it into the cigarette lighter and within 10 hours the battery is fully charged. This way I charge independent from campsites, restaurants etc.
Another first for me this year: working with two types of film, depending on the light. I choose to take Velvia 100F along with my regular Provia 100F camera food. It is a good film to use in overcast weather, bringing more colour in the scene. I found working with two types of film no serious hassle. One minor point though - I found Velvia a bit impredictable in the way it renders light. The difference between a scene under clouds and with a bit of sunshine is larger than it is with Provia. Sometimes the greens got a bit exaggerated, be it beautiful.
did I achieve my targets?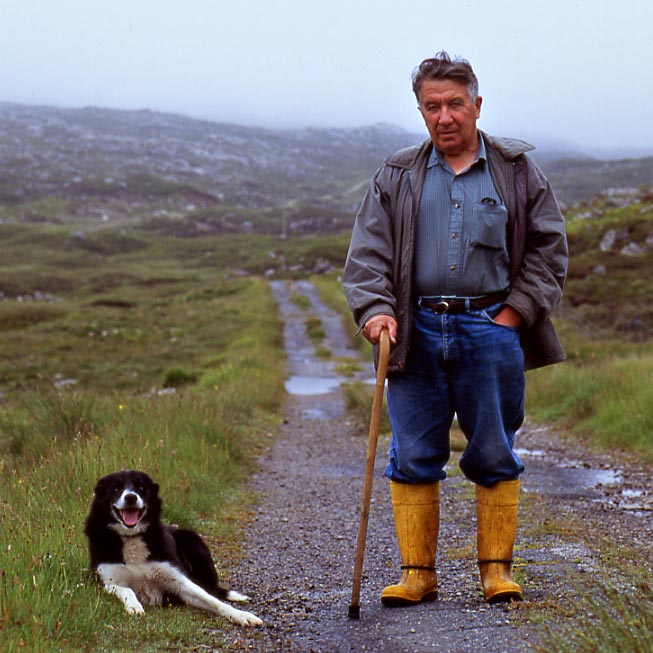 Staying focussed on documenting the landscape - its history, nature, inhabitants, weather, light -> surely achieved, although I could have used more modern elements in the landscape
Aiming more at documenting daily life too - a bit more travel photography -> my first attempts are encouraging; that said, I sure have to develop my mindset here
Doing some experiments with shallow depth-of-field, like I do at weddings -> didn't do this much, apart from some macro and family shots; I suppose it works better with travel photography; the few attempts in landscape didn't work out brilliantly
Delivering at least 10 good panoramas -> hmmm, not really achieved, most panoramas I made are under dull weather, therefor lacking impact. The main point though is that making panoramas is simply not a priority in the way I look around. Probably a good 6x12 camera with a couple of lenses will help - as soon as I get into my rich days, as my grandfather always said with a laugh...
Use more modern elements, like fences, roads, electricity lines etc. -> another thing that is not really a priority for me, although I tried to avoid an unrealistic image of the Hebredes as a pre-modern paradise.
PS Much more than in other years I documented our holiday and our party as such: camp sites, ferry crossings and especially our boys. Of course they are terrific subject matter!
new targets & strategies
New targets
Make more reportage style work; the first timid attempts encourage me to do more and better.
Use all elements of a landscape and use them photographically - an aim I already had in 2003 but that still needs a lot of work.
I shouldn't get stressed when weather or light lets me down. Just wait and do the dishes, or play a game with the children.
Develop even more discipline in using filters. The Scottish coasts book of Joe Cornish shows that filter use gives really better results, without disturbing the original atmosphere of the scene.
How to achieve?
Just ask people if they mind to be photographed, when we have a chat anyway. Quite often they say they are not really much of a great subject, but nevertheless they like it.
Keep analysing and value all elements of a landscape, either beautiful or not.
Keep telling myself I don't need to do anything but my own 'thing'. Every time there are countless photographic possibilities - this shouldn't make me nervous. Just do what I'd like to do.
Stop being lazy - use those filters when needed!!!
---
You can find this trip's portfolios here, in chronological order: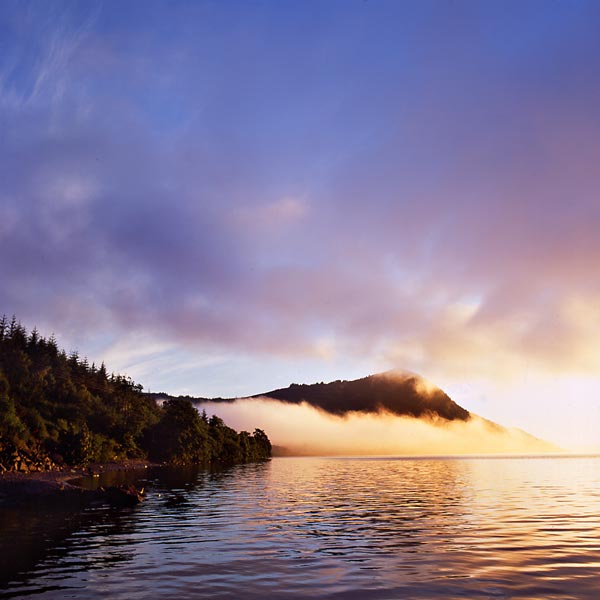 ---
This article is written by Wim van Velzen, © 2005.
Comments on the article and photographs are welcome!

All the photographs shown here and lots more are put in several portfolios!
It is also possible to order prints or to use them editorially or commercially.