Wim van Velzen photography - articles
---
'You must have a good marriage...'
account of a journey to the Hebrides
part one, in which is told who went and where they went
part two: Leòdhas
part three: Na Hearadh
part four: An t-Eilean Sgitheanach agus Loch Ailse
before
Physically the mountains may be the height of Scotland, but in beauty and variation nothing surpasses the coast and above all the islands. On the one hand they are worlds in themselves, on the other they always give a view to the next isle. The sky-line is an always enticing feature.
Here, where sea and land meet, the landscape is always in motion - waves, dunes, boats, birds. Beautiful.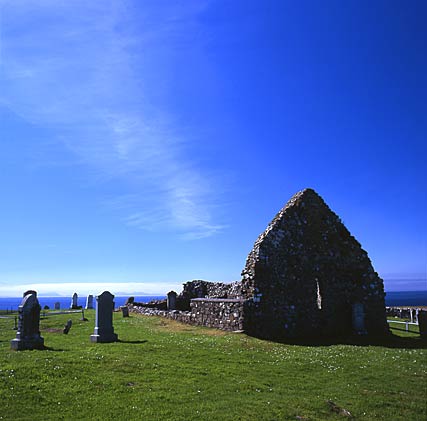 So it comes as no surprise that on the Isle of Skye we felt drawn to those blue lines we could see in the distance, the Outer Hebrides. As a first line of guardians in the vast Atlantic Ocean: Barra, the Uists and Benbecula, the large double-island of Harris and Lewis, all surrounded by countless smaller islands and stacs.
These 13 miles of islands have their character from storms, rain, bright spells, from sandy beaches and flowering fields, deep sea lochs and rocky islets, from prehistoric stones and small crofters' houses. Gaelic, one of the Celtic tongues, is here in everyday use. Attending church, tourism, sheep, fishing and Harris Tweed are the main ingredients of life.
After some study we decide to concentrate on the northern part of the Outer Hebrides: Lewis and Harris, combined with a second (or in my case third) visit to the Isle of Skye ( look here for some photographs from my 1999 visit ). As a matter of fact, my wife presumed that the more southern islands would have little to offer in case of bad weather - and after our experiences on Harris (let's say wild and wet) this seems a most valid argument to me!
Another reason for this choice was the eager wish of our oldest to visit some castles, which are more readily available on Skye. And I myself enjoyed in the prospect of meeting old friends, like The Old Man of Storr, the Quirang and some other marvels of Skye's geology.
The last weeks before we left, we read a lot of travelling guides and used websites as Visit Hebrides. Some Ordnance Survey maps helped us to get in a large scale anticipation: every house, path or cliff is on the map and can be dreamt of.
Before we go on, I'd like to point out that the correct pronunciation is 'He-bree-dees' with the stress on the first syllable. Otherwise you might get some robust women in a white dress on your mind...
the travelling party
The number of our party is six. Four people, a four-wheeler and a tent.
The latter can be folded to a small bundle and unfolded to a house with two sleeping rooms, and a combined living and kitchen. Convenient, flexible and useful for our kind of travelling.
No sound of protest can be heard from our faithful vehicle when we put far too much things in it or when her throttle is pushed down to the bottom. No single-track road is too narrow, no winding too sharp. Unfortunately after some days the potentiometer failed, but it turned out that it could be easily done without. It just made up for a more direct style of driving, so to speak (rally wise switching gear).
And then as said four people, but how different!
First of all the youngest companion: Teun. He is 6 months of age and already far from home. Admired by countless locals and especially by seventy year old American ladies, who while in search for their ancestors badly miss their grandchildren. He himself is quite modest under all that attention, just giving wee smiles. Less modest he is about his right on meals. In that respect he has a very clear and loud voice.
Dreaming of a career as a knight, policeman or joiner - depending on where we are and what we do - 7 year old Klaas is always on the search for adventure. The ever blazing wind is very good for kiting; the lack of trees makes finding arrows for his bow a bit hard, but he shoots with whatever he manages to find. And clambering - well you can do that everywhere in Scotland, can't you?
Quite spectacular to see is playing stone age - nothing is safe for his stone axe; the family's dwelling is defended against intruders, as he fights with a hefty club.
Marleen has a great love for the country, but like each true love is has its moments of doubt and affliction. Days of continuing rain and wind make her sigh 'What are we doing here? Why aren't we on Ibiza?'. And just as she decided never to return to this place ('that is to say, not next year'), then the sun breaks through the clouds. The beauty of the land just melts here questions away.
Apart from all this she likes to read a lot, drink tea and hug Teun.
And finally Wim - photographer and writer of this story. To him Scotland is his second home, loved more dearly than his first. No doubt because in so many ways it is different from the place he comes from. Nevertheless it is no blind love, which would be utterly awkward for a photographer anyway.
He reads, looks and sees and tries to understand more and more of this country. Drawbacks of past and present have become clear and this led to a more full-grown love.
Much of his time is spent behind the camera. He rather has rain showers than a mere overcast sky. This year his saying 'the weather in Scotland isn't always nice, but it is always beautiful' was proven wrong...
And then now about the journey itself. Due to holidays, we had to decide to go in July. As we had to travel quite a lot within Scotland, we could use a three weeks period (most of the time we go for just two weeks).
In this article I prefer to use the Gaelic orthography for the Scottish geographical names, with if needed the English one between brackets. I do this to show that I did manage to learn something during all those hours spent reading books like 'Learn Gaelic in three months', but in which they do not tell you exactly which three months we are talking about...
the outward journey
The IJmuiden - Newcastle ferry is as always very good. 9.00 AM we disembark and head for our first destination Ulapul, where the ferries to Steòrnobhagh, Leòdhas, leave (Ullapool, Steornoway and Lewis). Normally the best route would be along Dùn Eidean, Peairt to Inbhir Nis (Edinburgh, Perth to Inverness). But global politics don't permit - between Dùn Eidean and Peart the G8 summit is going on, with all kinds of protests, riots and miles of barbed wire. Reason enough to drive along Glaschu and An Gearasdan (Fort William).
Because of this detour we unfortunately cannot reach Ulapul in one day. The first night we stop in Inbhir Moireasadan (Invermoriston). We stay the night at a campsite at the shore of Loch Nis (Loch Ness).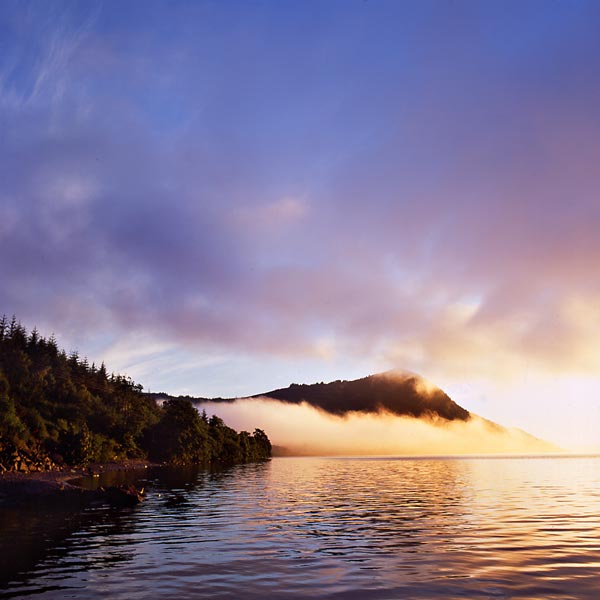 Next morning Teun gives us a wake-up call at about five o'clock. Marleen feeds him, I go out with the camera to enjoy the really magnificent morning light. What I do not know yet, is that this will be about the only visible sunrise we'll have these holidays!
After visiting the shop of the Official Drumnadrochit Loch Ness Monster Exhibition Centre - yes, indeed - we head further North.
While picnicking half way we are accosted by a lady who could not keep her hands off Teun. She tells she is on her own today because she didn't feel like going with the rest of her group to John o' Groats. Fine of course and very well understandable, but a pity nevertheless that she sees us as worthy substitute for her travelling companions.
Without further problems we reach Ulapul, with more than 1000 inhabitants the most important place at the Northwestern coast. On top of that it sports two good bookshops, so we have enough things to keep us busy.
We also buy a combination ticket for the Ulapul-Steòrnobhagh and Tairbeart-Uig ferries, or mainland -> Leòdhas (Lewis) and Na Hearadh (Harris) -> An t-Eilean Sgitheanach (Skye).
The weather is really fine as we go on board the ferry. The first half an hour we go along the Eileanan Samhraidh (Summer Isles). We see some showy seals and even a dolphin, unfortunately without a nice jump out of the water.
The ferry has the same strange atmosphere as the IJmuiden-Newcastle one, that is without the tax-free shop. Many travellers have lots of energy and are eagerly waiting for some adventures, but on board all you can do is wait indeed. Of course one can pass his time by watching a silent television screen, have dinner or look at the children in the play area, where they practice their social skills by observing each others' reactions to be being beaten.
I myself would like to stay on deck, even as the wind blows and the first showers come along. But as Marleen is quite prone to sea-sickness, I decide to stay with the family.
At half past six we leave the ferry and drive into Steòrnobhagh. Tension rises in a pleasant manner. What will our visit to Leòas bring us?
A 50 miles drive to the west coast campsite to begin with, right through the deserted interior full of moors, lochs and some mountains in the distant South.
part one: who went and where
part two: Leòdhas
part three: Na Hearadh
part four: An t-Eilean Sgitheanach agus Loch Ailse
---
This article is written by Wim van Velzen, © 2005.
Comments and questions are always welcome!

Most of the photos in this 4 part article are placed in the following portfolios:
The Great Glen
Lewis: Uig and Bernera
Lewis:the North and East
Harris: the West
Harris: the North and East
Skye (2005)
Lochalsh