Wim van Velzen photography - articles
---
'Every morning is different'
a trip to Scotland in winter
what I hoped to do
I have been in Scotland many times now, always between May and October - and never in winter. But I always wanted to. Scotland is beautiful in summer too, mind you, nevertheless I longed for the sight of the land packed in snow, skies being even brighter, fields and forests in different colours. I just dearly wanted to see 'my country' in winter.
A visit to Yorkshire, in February 2002, made me even more enthusiastic for the idea. At that time there was little snow in the Dales, and the photos I made of that little amount were overexposed or otherwise screwed up by me.
Enough reasons to plan a new winter trip. And in the Christmas week of 2003 the trip was there. Apart from non-photographic aims, like having a good time, read some books, walk and shop around in Edinburgh and Stirling (actually this idea came from a different part of the family), I had some specific targets too:
visit some places in Scotland that mean a lot to me, like Tyndrum and weather allowing Rannoch Moor, in winter
add winter and snow pictures to my Scotland portfolio
see if I could make better winter pictures than that Februari in Yorkshire
see how my Rollei behaves in bad weather and in the cold
The choice of accommodation was easily made. Camping in December is not for everyone, at least not for us. Too cold, the nights too long. A hotel tends to be a bit posh and expensive, especially so because you cannot make your own dinner. The latter is true for B&B too. And these are often closed during Christmas.
Therefore we opted for a holiday lodge, found and booked through the internet. We wanted it to be between Edinburgh and the highlands. That way, the entire fellowship would be happy.
We found a nice lodge in Callander, just north of Stirling, 80 km to the north-west of Edinburgh. Callander is in the middle of the Trossachs and just at the edge of the highlands. It is a place of a good size too - with a population of about 2500 not too large, but still having all the shops you might need.
And now some photo-speak: for my taste winter colours tend to be a little too flat on Provia. Therefore I had purchased a lot of Velvia 100F. And as I had no idea how many pictures I would make on a winter trip (days are shorter, but I would encounter probably more difficulty when taking of light meter readings), I took all of them with me. To be sure, a pack of Provia 400F was put in the back as well - you can never know how many deer are feeding in the back-garden, can you?
I also took some Sensia 100 and 400 with me, for working with 35mm in town. The Pentax MZ5n was accompanied by the 35 and 85 2.0 and 50 1.4.
on the way to Callander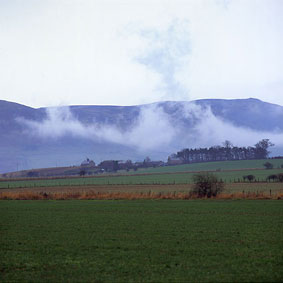 The IJmuiden - Newcastle crossing was very quiet. 9.30 AM, Saturday the 20th of December, we had Newcastle at our backs, driving on a friendly road through Northumbria and the Borders.
Friends had recommended to us, and rightly so, to get some tea and coffee in the Milfield restaurant, a few miles before the Scottish border. Because of the rain, the coffee tasted even better. There were also some displays, showing the local history. This was great, as my 5-year old son is very much interested in history, especially when he can think of himself being a prehistoric hunter, or a knight or whatever.
Walking back a few hundred yards, I managed to make the only pictures of the day.
When we arrived in Callander (about 3.30 PM) it was rather dark already. To my regret there was no snow around the house, though we had seen some in the Lowlands. As far as we could discern in the dusk, the hills around were dotted with snow, so the chances of getting a white Christmas (of which I was dreaming!) were not that bad.
So I made a mental note to wake up early next day. And because the sun is rather late, 7.30 AM can be called early! Not so in summer...
a glorious morning
When I woke up, about 7.30 indeed, there was some light outside, and as far as I could see almost no clouds. It was a bit too bright for my liking, and I was afraid I would miss the sunrise party. So I hurried.
Having been in Callander before, I remembered there is a good view from the bridge on the river Teith and Ben Ledi (879 metres, one of the highest hills in that area). From our lodge to the bridge was about 2 kilometres, and I was there quickly. The Ben had a nice white dress indeed - actually everything more than a hundred metres above the valley was white.
I got out of my car and ran to the bridge in order to miss nothing of the spectacle. It was getting brighter every minute and the sun seemed to be just around the corner.
I put down my tripod, camera and 150mm pointed to the hill. Luckily for me, the bridge had a stone wall. That protected me against the wind, both strong and cold.
And then it dawned on me that there had been no need to be in a hurry. It took about half an hour before the sun actually rose. Due to Scotland's latitude, not only are the nights long in winter, dawn is also relatively stretched.
Not that I was sorry for being there early. It was nice to see the land gaining colour at each moment. The clouds above Ben Ledi turned from grey to pink. A shower came up and made me look for shelter. As soon as the worst was over I got back to the bridge - and could shoot a lovely rainbow!
A jogger, who happened to pass by, said to me, as he admired the view: Every morning is different. Only afterwards I realised how right he was!
At 9.30 I was back in the lodge again, finding a breakfast on the table. That is the kind of service I like!
After we attended a service in the local Church of Scotland, we headed for the north. At about noon we passed the bridge again, and again I photographed Ben Ledi. Even at noon the sun was low in the sky. Because the sun was in the south now, the hill's texture was shown better.
We planned to go to Loch Tay and Ben Lawers, about 40km to the north. The mountains, with their white caps of snow on, were beautiful. Sometimes it started snowing again. As soon as we entered Killin, at the head of Loch Tay, there were some bright intervals. River Dochart roared with a pleasant rhythm. The atmosphere could be described as vulnerable, so much peace and quiet, and yet more snow was in the air.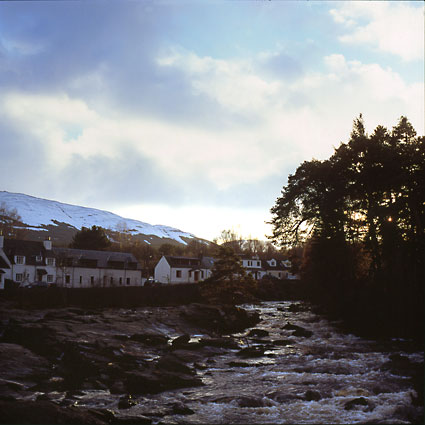 8.00 AM is early and 5.00 PM is time for night photography!
The next two days took the same course: I got out of my bed early (i.e. 7.30) and went out for a small drive into the hills to get some nice shots. About 10 I was back for breakfast. Then we headed for town: Monday to Edinburgh, Tuesday to Stirling.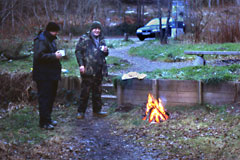 Monday morning started very well. Temperature was around zero (degrees Celsius!) and there still was snow on the hills. Guided by my instinct I drove to Loch Venachar (well, instinct, when the sun rises I like to have some water between me and the sun, to get some reflections).
Near the place I stopped, there were two small tents and two anglers. They were fishing for pike. The coffee they shared with me was good! And I like to have a talk with the locals. According to them I had missed the best of colour in the sky, but I am quite satisfied by what I shot!
Our visit to Edinburgh was a pleasant one. It is a great city, even under an overcast sky. I didn't do much photography, just some 35mm snapshots.
There is a great plus of visiting towns on holiday. You can immediately react to the weather, by sitting quietly on a shadowed bank under the trees - wrong, you are writing about Scotland here, Wim - by entering a tearoom in a hurry, by visiting a church or a museum.
Edinburgh has enough to offer, in every way. Because we wanted to visit some shops, we limited our touristy walk to the castle's front (we already had decided to visit Stirling Castle), the Royal Mile, St. Giles' interior, a Christmas shop (that is to say my wife and son, because I react allergic to these things and I think the ox and donkey would have been pretty surprised too, at the look of all this weird stuff) and then to the left to Princes Street.
Walking out of the HMV, the town was having the blues.
---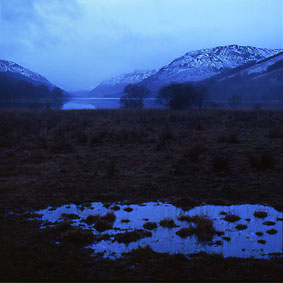 Next morning I went to Balquhidder. The snow was melting rapidly, causing some fog. The landscape was soaking wet, the beauty overwhelming. There was virtually no wind, all seemed to be transparent.
It was dark too. Shutter time was about 8 seconds. This caused some reciprocity problems with Velvia 100F, which I as an experienced Provia user didn't expect. The nice thing though was that the purple like colours did fit into the early morning atmosphere.
Our visit to Stirling that afternoon consisted of a guided tour through Stirling Castle and then some shopping down town. I decided to take my gear bag and tripod with me. Wrong move. In town I made almost no photograph, but wasted a lot of sweat.
The castle though was a great success. The guide did an excellent job (that is quite extraordinary), but the best was the atmosphere in the evening. And that is the good thing about December: you can make night shots at 4.30 PM! The sky was not all black, making the buildings contrast nicely.
For the sake of comparison a few photos of the castle at 2.00 PM and a few hours later. These were my first serious night shots, by the way, and I have to say I like them.
wet? it isn't wet, a bit damp maybe, but wet?
Next day I stayed home in the morning. Rain, wet, water. Everywhere. After a good breakfast, we went out shopping in Callander. I bought some nice books in a local second hand bookshop.
It was still raining. Tea and coffee, and, OK, some calories going with it. It rained.
Nevertheless we went out for a small drive. The rain kept falling down, but getting out for a few moments was no problem.
All snow had melted now. Combined with all rain this made up for some nice shows. Everything was ultimately wet; all waters had become cruel streams. Lower lands were flooded.
The dripping plants reflect a lot of sky light, making them glow. The ochre decaying ferns, the reddish tree buts: there is so much colour!
At the end of the road, near Inversnaid Hotel, I am the only one who is willing to get out of the car. Next to the hotel there is a waterfall, now draining tons of turbulent water into Loch Lomond. A magnificent view. An umbrella to protect camera and yours truly came in handy.
I am glad I came out of that car!
---
This article is written by Wim van Velzen, © 2004.
Comments on the article and photographs are welcome!

Most of the photographs can also be found in these portfolios:
The Trossachs
Breadalbane was: Central Highlands
Stirling - castle and town


It is also possible to order prints or to use them editorially or commercially.