Wim van Velzen photography - articles
---
'You are a gentleman!'
a trip to Scotland in winter - part 2
a happy Christmas story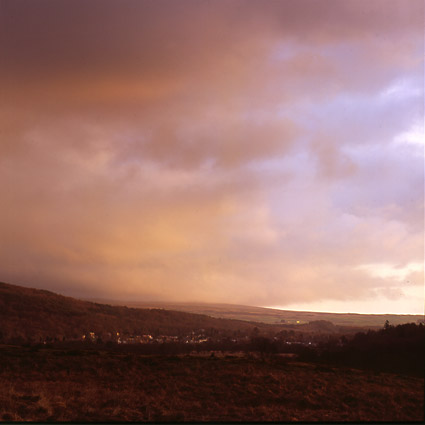 Next day, Christmas day, it had stopped raining. In the morning there was even some sun!
First I went to Loch Venachar again. No anglers now, no coffee, no gorgeous sky. Somewhat disappointed I returned to Callander. Then I saw a warm glow in the eastern sky, as if someone kept a Cokin tabacco filter high up in the sky.
At a point where I could see Callander, down in the valley, I made some nice photos, a few of them being made with a grey grad filter. At least I found the discipline to do so - I tend to be too lazy in these things.
That afternoon I managed to leave my family behind me - uh, of course I mean: I regrettable didn't succeed in convincing them to join me. So I went alone...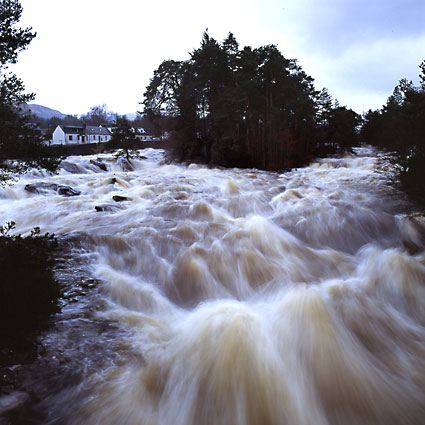 I planned to return to Killin and Loch Tay, to see if I could get a clear view of Ben Lawers this time.
On my way I noticed the water was really high now. In Killin River Dorchart was even half a metre above the level of four days earlier. Just compare this picture with the one at the beginning of this article!
In the mean time it started raining again. A little bit dejected - seeing Ben Lawers could be skipped on my wish list - I put away my gear and decided to get some coffee and a hot snack in 'the Capercaillie restaurant'.
I came in and ordered what I fancied. I had sat down for only a couple of seconds, when the restaurant's owner came over to me, with a glass in his hand:
'Want some mulled wine?'
'Pardon my ignorance, but what is that?'
'Orange juice, red whine and a bit of rum'
'Yes please! Exactly what one needs in this weather'.
As he placed the glass in front of me, he asked:
'You are a photographer, aren't you?
'I am indeed!?'
'Could you do me a favour? People in front of the restaurant cannot see how beautiful the river view is from the dining room. Could you make a picture from the balcony?'
'Certainly, my pleasure!'
'Ah, sir, you are a gentleman! You will get a meal for that!'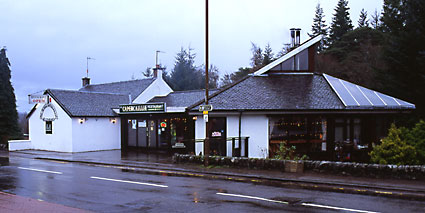 The mulled wine was delicious and warming, the food was good. I got my gear out of the car and at the balcony, having four tables-and-guests as my spectators, I made some pictures of the view.
After the job was finished, a plate of cheeses and crackers was waiting for me. That is the kind of work I like!
I made some pictures of the restaurant's exterior too - it even stopped raining. Well, almost.
'And send me the prints, with the bill!' My first on-site commercial business to business landscape assignment!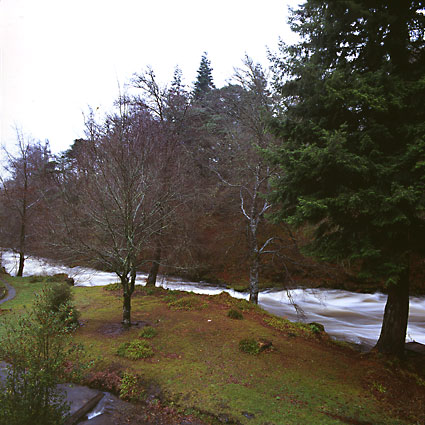 It was about an hour before sunset. The rain had stopped, although there still was some haze in the sky. I decided to drive to Ben Lawers.
Scarcely had I left Killin, that I drove through a fairy tale forest. The trees were covered with almost fluorescent lichen, sharply contrasting to the browns of the decayed ferns. The pools on the forest floor added to the atmosphere.
Looking at the clock and the map, I realised I'd better go back to the south of Loch Tay, in order to make some photos with a view on Ben Lawers. Better then driving directly towards the mountain.
Soon I was rewarded for my choice. The last rain went away, leaving a transparent sky of great clarity.
A little bit further down the road, I could easily reach the loch's shore, enjoying the play of clouds and light.
I made the photograph below with a grey grad filter, and I still wonder whether I saved or screwed up the picture. You decide. I still don't know: some way it doesn't look real - but it gives me the same feeling I had standing on that shore.
So I now decide it is a good picture. And you? I don't mind. (Of course I do mind, but I am working on my independence as an artist ;-)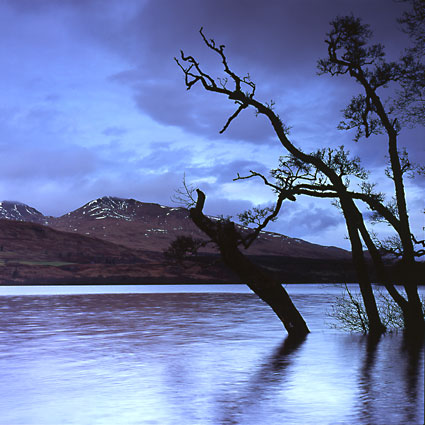 It was getting dark quickly now. Time to get back to the lodge. The next day time to get back home too, to my regret.
Good bye, Scotland, see you next time.
---
and what about my targets?
At the start of this article I told you we go to Scotland for holidays more often. I had had nevertheless more on my mind than just family and resting. Photography!
How did it turn out?
visit Scotland in winter:
Of course I succeeded. From December the 21st it is winter on the northern hemisphere, isn't it? What I wanted was to see the snow, covering the land, and I was a bit disappointed here (though I knew what to expect). There was quite a lot of snow on the hills, but I was not able to make any pictures while standing in the snow myself. For the pictures, this had a sort of visual division between high and low as a consequence, snow and no snow. Not too bad, but it would have been nice if I could have made some from forground to horizon snow pictures.
Nevertheless, the landscape is overwhelmingly beautiful in winter. The variety of colours and hues is even greater than in summer. All very subtle and fragile.
I couldn't visit the places I planned to, like Tyndrum and Rannoch Moor. In a holiday lodge one is less mobile than camping with a tent - especially so when you are not travelling on your own or with other photographers.
The weather didn't do anything to motivate waking up early and driving long distances. If the snow had been there all week, I know I would have set out really early and reached Rannoch Moor at sunrise.
December is dark in Holland and the more so in Scotland. Days are short and consequently the time for landscape photography, especially if the weather is variable at best. And then: the sun is low in the sky; some glens get no sunlight at all. This causes enormous contrasts in sunny weather.
adding good winter photos to my portfolio:
The photos are, given the circumstances, not bad. I didn't shoot that much, but that is because of the short time both the snow and I were in Scotland.
The successful night pictures in Stirling were a nice unexpected bonus.
The behaviour of the Rollei in bad weather:
My gear (see my 6008 article) did very well. I don't think I would have managed to do the same with my old Bronicas.
It is no problem to handle the camera and lenses with gloves on; I still pull them off when changing lenses, but that is not really necessary.
As long as it was frosty, the battery pack indicated that after about 4 rolls the charge was reducing (it counts down from 10 - 1). I could have got 8 films from one charge, but it was no problem to change the battery for another one and charging both at night; batteries are fully charged within an hour!).
As soon as the temperatures rose above zero, I could have shot more than 20 films on one charge.
This was my first trip where I used the 250mm (non PQ). A fine lens, but a bit awkward for light metering. The camera meters with these older lenses from EV5 and up only. The light level was often below that in wintery Scotland!
My solution was to meter with the 150 on camera first, but that is a rather cumbersome process.
The light meter is right on the money, in all kinds of light or lack thereof. The lenses again proved to be excellent performers; no flare or visible distortion.
and then some numbers
Of all rolls of Velvia 100F I took with me, I used 19. I didn't use any Provia (haven't seen any deer either).
I also used two rolls of Sensia 400, in Edinburgh and Stirling. I got some nice pictures, but not really more than average. I couldn't really concentrate on photography, and the quality gap with medium format is enormous.
19 rolls of 120 film equals 228 frames. I made six by accident. Many shots were bracketed, leaving 114 unique shots. 92 were mounted, the others rejected because I didn't find them interesting enough, or I had better ones of the same subject.
92 from 114 is a very high score in my book - I always bin more of them. The number of shots I bracketed was higher than normal, because of some uncertainty of metering for snow and dusk.
What I learnt and some new targets:
I am sure I will return to Scotland in winter, but rather in February, when days are longer. And more into the highlands, not too far from the sea.
As far as statistics go, in February there is more chance of frost and snow.
Especially in winter I should make better use of good maps (Ordinance Survey 1:50,000). Due to the low sun, it is very important to know how steep a hill is, or how deep a glen.
In summer it is important too and I shouldn't hesitate to buy these maps. They are not that cheap, but compared to the cost of gas and film, it is not that much.
The Pentax MZ5 and 100mm will be packed again, like in the Bronica days, as a light meter. Using the Pentax works better with the 250mm, when using grey grads and simply to keep the Rollei on tripod, while metering several parts of the scene.
Of course, when walking with a lighter pack, I can leave the Pentax out.
The choice of Velvia 100F, instead of Provia 100F, was a good one. This film emphasises the colour of the landscape, without being too saturated. Of course, this is a personal thing. Walking through a winter landscape, I feel that the colours are subtle, but they are there. Provia made them too flat for my liking.
To my regret I hadn't thought about the Velvia 100F's reciprocity characteristics. Provia causes no problems, not even with a shutter speed of 30 seconds. With the Velvia, it was visible from about 4 seconds and painfully so from 8 seconds.
I don't mind too much that the slide is darker than the meter indicated - it only emphasizes the early morning feel. Worse is that the colour turns towards magenta - not good for most scenes.
So, Wim, take always some Provia 100F with you.
I really have to do more with grey grads. It is really worth the hassle.
---
post scriptum:
Having travelled all the way to Scotland to see a lot of snow (that is to say, in the hope of seeing see a lot of snow), the quantity didn't meet expectations.
A few days after we returned to Holland, where chances for frost and snow are smaller, there was snow in an amount that would even surprise Switzerland ;-)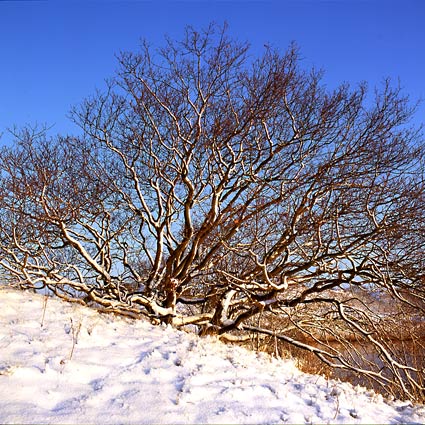 ---
This article is written by Wim van Velzen, © 2004.
Comments on the article and photographs are welcome!

Most of the photographs can also be found in these portfolios:
The Trossachs
Breadalbane was: Central Highlands
Stirling - castle and town


All the photographs shown here and lots more are put in several portfolios!
It is also possible to order prints or to use them editorially or commercially.